Reviews For 'Words Of Power' And 'Words Of Fury'
"Magic, mystery and danger ... hard to put down." – 5 stars

"A very smooth read. The exotic samurai background is accessible and (the writer) really believes in what he's writing." – 5 stars

"Extraordinarily well-written fantasy ... quite wonderful twists and plot turns all along the way. So, highly recommended!" – 5 stars

"...a story that comes to us dripping with fantasy-satisfying magic (and with) a thundering good denouement." Thebookbag.co.uk – 4 stars

"...the structure of the parallel world sculpted by Smith is quite fabulous and complex."
"(a) rich tapestry... This is a robust tale of good versus evil or multiple evils working in tandem. There is suspicion, fear, treachery, extreme violence and the deployment of magic. First rate fantasy!" - British Fantasy Society
---
'WORDS OF POWER': the series
---
Welcome to the website for the
Words of Power
books and their author Ritchie Valentine Smith.
The Words sequence is a multicultural epic fantasy set in an alternative version of our own world. Follow the characters through Japan, the Empire of Albion, India, China, and then on to the Holy Land, and the magical siege of Jerusalem.
Man Kinross is the central character. Throughout the series, he and his friends are desperately trying to find salvation for their world and the worlds beyond.
Man and the others, all vital people in every way, are on the side of life. There is currently a fashion for the grim and dark in fantasy. No one could admire George R.R. Martin and Joe Abercrombie more than the author, as they are wonderful writers, both, but his own work is, ultimately, about our glimpses of the light...
This series is written by the award-winning creator of Rocket Man and Kiss.
A modestly revised Words of Power went live on Kindle in June 2015, where readers who bought the first edition may get the revision. Please note that the part of the story set in samurai Japan will now be completed as follows:
Words of Fury Part One
Words of Danger
The Sword Maiden
Words of Darkness
Words of Light

Do keep reading, and thank you all for your support.
---
To read a free sample of either book, or to buy...
If you came from a different country, please check your local Amazon store (theWords series is available everywhere Amazon operates, from Europe to Latin America, to India and Japan). If you cannot order through Amazon, please contact us here and we will export copies direct.
---
'Wheel of Time' pictures and others
---
Latest information
August 2022
Friends, Your Author is available on twitter, as @RitchieVSmith – though there he comments on politics as well as on writing. Several things are hanging fire right now, including some short stories … but we'll let you know. Please continue to support the Words of Power books, however.
Your Author is tempted by the World Fantasy Convention in his favourite city, New Orleans. But probably not enough to go. He will though be at this year's Fantasycon, over the weekend of 17 September. See you there?
April 2022
Off to Eastercon this week, in London's Heathrow. Perhaps there'll be some pictures!
Otherwise, Amazon's 'Wheel of Time' series was watched by Your Author (and his wife). He was impressed and moved. He hopes to say more, perhaps on twitter but more likely through the British Fantasy Society. A step into thriller-writing, and a bout of covid, have delayed work on the 'Words of Power' sequence ... but Your Author will complete more, so please keep the faith!

October 2021
We are close to Amazon Prime showing their Wheel of Time series. The trailer is fantastic. I'm very much looking forward to it!
Otherwise, Fantasycon 2021 was Your Author's latest adventure in real life. The pandemic made things quieter than usual, but that seemed to give us all more time to be more social. My panel - about writers' influences - didn't make the live feed but it was a very interesting discussion, with Marcus Gipps (Gollancz) and the fantasy writer David Cartwright. I talked James Clavell, Keith Roberts, and (of course) Robert Jordan... Other fine folk I met in person included Juliet Mushens (super agent), Helen Armfield (super talker), Susan York, Shona Kinsella, Karen and Allen (all just super).

July 2021
It looks like we have lived through the pandemic, in all its ongoing dystopian dullness. Your Author, like most of us, hasn't been able to travel, so he has spent his time writing, interrupted by two spells in hospital – fortunately successful, though with time-consuming recoveries. He hopes to see Words of Danger (4th in the series) and then The Sword Maiden (5th) available in the fairly near future. In the meantime, he is set to appear at Fantasycon 2021 (24th – 26th September, The Jury's Inn Hotel, Broad St, Birmingham). If you get there, and you should, do say hello!

February 2021
Wheel of Time is the late Robert Jordan's brilliant novel series and also now Amazon TV – but you knew that already. Your author's admiration for Jordan is well-known and he has now posted pictures of his connections to Robert Jordan and the show...
First up is Emmanuel Imani, one of the TV cast, who shares a personal trainer with a certain author's wife. It's a small world! Emmanuel plays Ihvon, Warden to the Aes Sedai Alanna Mosvani. You can see him being presented with his souvenir copy of Words of Power by Yours Truly in a favourite south London coffee-shop of ours. Emmanuel is gracious, charming, and handsome – and an excellent actor. (There might be insights into the show and how it's going – filming is based in Prague – later, right here.) There is also your author with his old friend John Jarrold, editor and literary agent. John, one of Jordan's early UK editors, is name-checked in The Great Hunt as one of those who 'came to my aid when God walked across the water and the true Eye of the World passed over my house'. (Want to know what Jordan meant? Feel free to ask Yours Truly! There are 'Contact Details' here on the Website)
So do please check out the pictures, and follow Ritchie Valentine Smith on twitter (
@RitchieVSmith
).

January 2021
It's always darkest before the dawn, they say. Your author says in a loud and cheerful voice, 'less darkness, more dawn'. This is not the place to say more about the covid pandemic – so let's cheer ourselves up instead! The latest activities for your author include a final re-write and update for Words of Fury. There's also a free / low cost intro to the series: Words of Fury Part One, a short-novel-size extract on Kindle only. This will be 99 cents / 90 pence, and the team intend to make it free for a week from the 10th of the month, most months. So do enjoy.
The amazon.com link is here and the amazon.co.uk link is here
Fury is a straightforward pursuit. The key characters escape Jade by riding a hot-air balloon. To reach sanctuary at The Waning of the Moon (the city on a hill) they have to cross Monster Beach. (An alternative version of this – a fantasy/horror mash-up – is available through Demain Publishing as Monster Beach.)
Your author continues to review for the British Fantasy Society (please join the BFS), for goodreads, and elsewhere.
He also says this: Good luck to everybody, in this dark time.

August 2020
Your author is often on Twitter these days. Please find @RitchieVSmith and follow. Available now is my fantasy / horror hybrid, Monster Beach, available on Kindle and as an e-book and a print book through Amazon, from Demain Publishing.
More generally, what can one say? For a while covid-19 turned London into a ghost town. Things have changed for the better lately and I hope they continue to get better for everyone. But, lest we forget, there have been many, many victims... As for your author, in re-writing the
Words of Power
sequence some titles and dates have been changed. Please see the list for the latest information. Otherwise, gentle and discerning readers, do look at
twitter.com
, and please keep the faith and continue to read the books.

April 2020
We seem to have woken up in a dark dystopian nightmare, done as an SF movie. London is in lockdown and people are dying. Is there hope? There is always hope. This, too, will pass. Your author has slightly rescheduled his book schedule. There will now be three more books to finish the story in Japan. For details, please see above. In the meantime, stay safe!

October 2019
Your author has been following the pre-production news about the television version of Robert Jordan's
Wheel of Time
. It's all sounding good. I can say no more than what George R R Martin's partner told the producers of
Game of Thrones
: 'Don't fuck it up.' Another media production your author has been following recently is:
The Strain
. It's a genuinely scary vampires/SF/Nazis mash-up, well-scripted and very well-made. As for your author himself, a recent stay in hospital has left Ritchie Valentine Smith on crutches and in some pain. A good recovery is anticipated. However, several weeks of valuable time have vanished in a haze of hospitals, pain and strong painkillers, and publication of the next two books in the
Words of Power
series has been postponed.

June 2019
After a fantastic music-linked road trip through the US, going from Atlanta to Chattanooga (staying of course in the Chattanooga Choo-Choo Hotel), to Nashville, to Memphis, and finally to my favourite city, New Orleans... Perhaps there'll be pictures! Previously, a memorable Eastercon came and went, and your author was there, along with many faces from the past and present, including old acquaintance Christopher Priest. (One of his novels sourced
The Prestige
.) I have subsequently tweeted the striking cover of his unjustly neglected
Fugue for a Darkening Island
. This prescient and disturbing work was written in the 70s, it has ecological disaster (global warming) and mass immigration to the UK (which has a militarized border) by refugees from Africa, and then something like civil war. This is catastrophe, not cosy, presented with unshowy honesty – a highly recommended work.

March 2019
Your author is now (at least on occasion) stomping wittily around on twitter: @RitchieVSmith. Please follow him. Are you going to this year's Eastercon? Your author is, and hopes to see you there. He might be on a panel or two, and will certainly be in the bar. Other news: 1) Words of Darkness is well on the way to completion. 2) A horror story set in the Words of Power universe is now available from Dean Drinkel's small press. Do please do look at Monster Beach and the other stories, all available on Amazon. The amazon.co.uk link is here.
What's in the story, apart from a shock at the end? There is good and bad in the Words of Power universe, darkness and light, just as in our world. But, as we all know (watch the news to see it) there is no guarantee that the bad won't have victories...

November 2018
So Fantasycon 2018 has gone, with Yours Truly in attendance. It went very well, helped by a good hotel (The Queen) right opposite the railway station in Chester. Your Author was able to sit on a couple of panels and give a reading from Words of Fury. He met several new people, including R J Barker and his partner. 'R J' is in person a Goth (sometimes in make-up) and a Northern cheeky chappy, most amusing, and the author of Age of Assassins. This, judging from the beginning, which is all I've read so far, is poetic and original – and so recommended!
RJ's book did not, however, win the Robert Holdstock BFS Best Novel. Your Author was wondering if Anna Smith Spark might get that prize, as she has quite a high profile and is admirably intense both in person and in her writing. (Her novel The Court of Broken Knives is another recommendation.) The prize instead went to Jen Williams, who has a number of books out and so a following. It was interesting to see how the awards went, who applauded, and how hard. Hmmh... (A full list of awards, nominees and winners may be found on the British Fantasy Society Website.)
This year the main Guest of Honour was Adrian Tchaikovsky – a gentleman and fine writer. His wife – what an impressive surprise – sings grand opera. She did a truly storming version of Nessun Dorma. (That was me, shouting out 'More! More!')
Now, a thank you to Sachin and Ria Vyas for getting Words of Power into Harrow School's library and St Helen's School library. More young readers!
Last, here are recent reviews of Your Author's work from the British Fantasy Society Website. They are well-informed, detailed, sympathetic – and very positive. Do check them out!
https://www.britishfantasysociety.org/reviews/words-of-power-by-ritchie-valentine-smith-book-review
https://www.britishfantasysociety.org/reviews/words-of-fury-by-ritchie-valentine-smith-book-review
---

September 2018
Your author's recent stint of reviewing, some for goodreads and some for the British Fantasy Society, and his travels (Ischia, Budapest, Paris and Normandy) have delayed the completion of 'Words of Darkness'. However, he is now booked into the UK's Fantasycon 2018, in the Queen Hotel, Chester, which will probably include a couple of panel appearances and a reading from 'Darkness'. (Adrian Tchaikovsky will be guest of honor.) Your author hopes to see some of you there.
---

May 2018
Your author is soon to depart for some time in Ischia (in the Bay of Naples). He is currently working on details of attendance at this year's Fantasycon, which should include a reading from the latest book in the sequence, 'Words of Darkness' and perhaps a formal book-launch. Yes, some bad things will be happening in this part of the story - but hold on, have faith, and there will be light...
---
February 2018
A wonderful new year to all!
Your author's reddit.com Ask Me Anything (AMA) on 19th December is over, but it's still available here. There is also a new review and interview with Yours Truly on JesusFreakHideout.com – which mostly covers Christian-inspired indie rock and is run by the excellent John DiBiase and his crew. Please look here.
Your author recently bought Hue 1968 – about the siege of Hue during the Vietnam War. It is darkly fascinating, and will provide inspiration for the next book which will be Words of Darkness. In our story, The Waning of the Moon is a great psychic fortress, and the last hope of the world. And now it is under siege... Keep reading and your author will keep writing!
---
December 2017
Your author has been invited to do an AMA – an 'Ask Me Anything' (except for bank-account details...) – on December 19th, with the wonderful people at Reddit. Reddit.com is a rich and varied site; do take a look, and perhaps ask something during my AMA. (One hint... What happened to your author when he was in the Church of the Holy Sepulchre in Jerusalem, the year Saddam Hussein invaded Kuwait?)
The general link to the Reddit Fantasy Community is this – www.reddit.com/r/fantasy – and you can find AMAs from Joe Abercrombie, George R. R., Brandon Sanderson, etc. If you want to participate in my AMA or another, there's a 'how to...' guide at www.reddit.com/r/Fantasy/wiki/rfantasy101 which covers the basics.
Your author hopes some of you, at least, will look in on December 19th.
---
October 2017
Your author and his partner are now returned from the UK's Fantasycon 2017, which was excellent. Peterborough has a striking cathedral, though your author was mostly in the convention hotel meeting people, giving a reading, doing a panel, etc. Adrian Tchaikovsly helped us with our raffle, not long before he won the Robert Holdstock Award for Best Fantasy Novel for The Tiger and the Wolf – a fine man and fine writer.
Other good souls encountered were Anna Smith Spark, Dean Drinkel (with his film about a Napoleon you don't know ready to shoot), and Allen Stroud and the rest of the team that made Fantasycon possible. Thanks to all of you.
There is more progress in the USA, too. On 17 October – the official launch date for 'Words of Fury' in the US – reddit (the online community) is hosting an 'ask me anything' session featuring your author. (Nothing too embarrassing, I hope!)
---
September 2017
That's the revision of 'Words of Fury' almost ready for its launch at the UK Fantasycon in September/October. Your author is looking forward to going. He'll be in the bar or selling books – or both!
---
July 2017
Another trip to Scarborough, and then on to the Railway Museum at Shildon. There you can see the 'Sans Pareil' – the real one, from the Rainhill locomotive trials in 1829. Real! (And a lovely painted replica...) More powerful than George Stephenson's 'Rocket', though not as effective on the day. Your author almost cried...
---
June 2017
Though his books are supposedly fantasies, full of warmth and invention, your author tries to put the violent truth of this time into his work. He is in central London, close enough to hear Big Ben strike. In March, there was murder on Westminster Bridge. On June 3, eight people were killed on London Bridge, and the attackers continued their evil in Borough Market – in places your author has frequented. All night there was the sound of police cars and ambulances... But worst of all was Manchester, where 22 people, many of them young girls, were murdered at an Ariana Grande concert.
Of course there's hope, of course there is light, but your author has to acknowledge this is a dark time...
---
February 2017
A visit to Chichester, where we stayed in an admiral's house, and found a bookstore converted from an old church which was there in 1050. (You read that right: your author was in a building that was here before the Conquest of 1066.)
Some decent progress on 'Words of Fury' and 'Words of Darkness'. – Look out, America! We are coming...
---
January 2017
A happy and bountiful New Year to all – after our various unsettling political surprises… And there is now a film set in just the same kind of world as the Words books: Martin Scorsese's 'Silence', which your author saw recently at the Brixton Ritzy in London. Beautifully shot and very, very well-acted – perhaps dark, but a very moving experience, and in the last moments especially you will find true uplift...
---
December 2016
Just a note to say that finalizing Words of Fury has been unexpectedly time-consuming; current date for completion is February 2017. Thanks for your patience! Just fine-tuning; and almost there.
---
October 2016
Your author is now returned from the British Fantasy Society 2016 convention. An excellent, thought-provoking time it was! Strange to realize again that my old drinking buddy from the Eighties, Rob Holdstock, is now several years dead, with the British Fantasy Award (novel category) named after him as a memorial...
I particularly enjoyed encountering Adrian Tchaikovsky, whose excellent Jane-Austen-muskets-and-magic mash-up Guns of the Dawn made the final ballot at the Con. The American Scott Lynch much impressed me with his eloquence, sensitivity and humour: here's to you, Scott – my theatrical anecdotes about Sylvester McCoy can wait – and the signed copy of The Lies of Locke Lamora is next on my reading-list!
---
September 2016
Your author is now attending Fantasycon-by-the-sea, Scarborough, UK, September 23-25 2016. It is (we quote) 'celebrating the fantastic, the horrific and the awe-inspiring in literature, image and film'. The US Guests of Honor are Elizabeth Bear and Scott Lynch.
Paperback copies of Words of Power will be available free – if you win a competition – through the www.thebookbag.co.uk.
---
Latest Pictures
Click here to open a gallery of your author's latest pictures.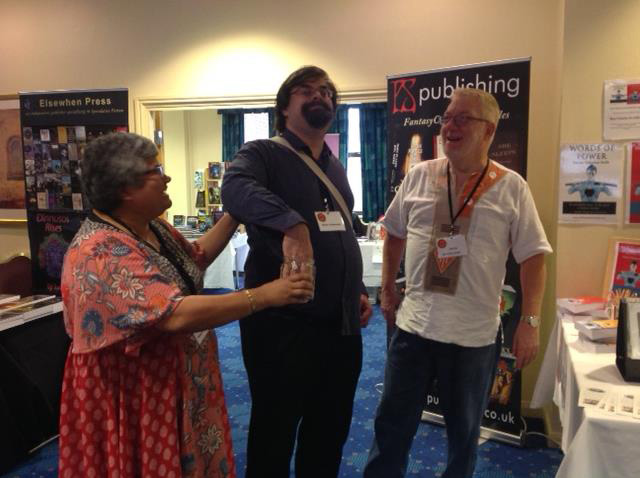 Ritchie Valentine Smith (right) at UK Fantasycon 2017 as Adrian Tchaikovsky (centre) draws our raffle ticket - Adrian won the Best Fantasy Novel award soon after.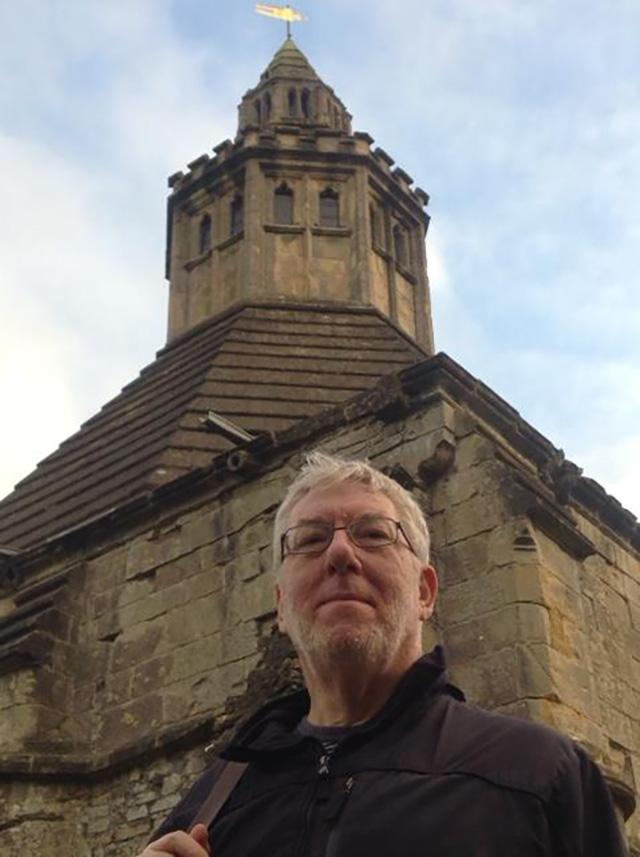 RVS - author photo 1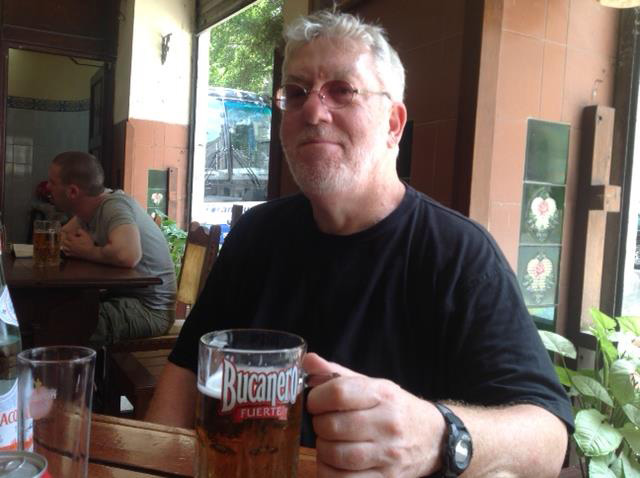 RVS - author photo 2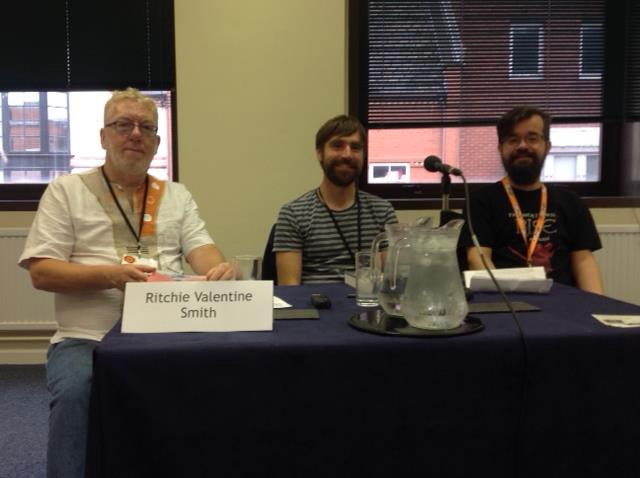 RVS giving a reading at UK Fantasycon 2017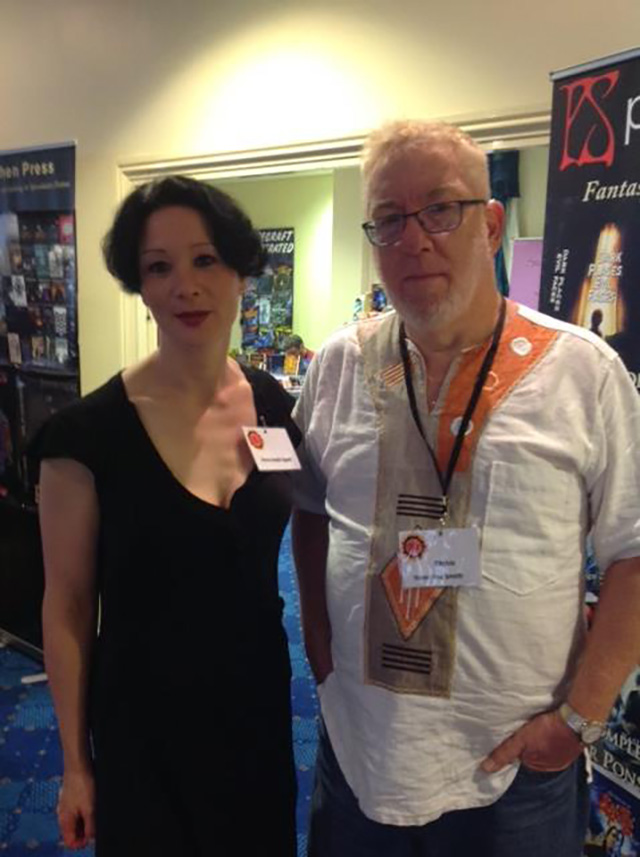 RVS with Anna Smith Spark at UK Fantasycon 2017
---
Contact Details
---
info@ritchievalentinesmith.com
---
The Author
---
Ritchie Valentine Smith was born on Tyneside. Once a social worker, once a poet, once on the BBC 'New Talent' programme, he is the author of three previous novels, 'Fortune', 'Winning' and 'Risk'.
In 2003 his play 'Rocket Man' was on at the Pleasance (Edinburgh Fringe) and the Union Theatre, London, where it won a Peter Brook Award for its producers. He wrote and produced 'Kiss'. He then worked as a reviewer for www.edinburghguide.com, covering stand-up comedy and theatre.
In his research for the 'Words of Power' series the author has travelled extensively, going to the Middle East and the Holy Land on several occasions, to India, and most recently to Japan, where he would like to thank the hospitable people of Kyushu and Nagasaki especially.
---
Copyright © Ritchie Valentine Smith 2022